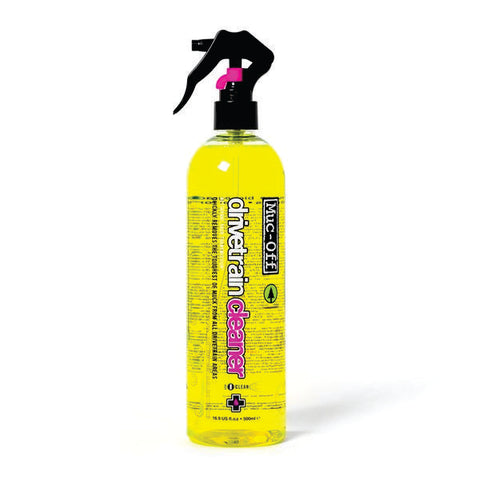 Muc-Off Bicycle Drivetrain Cleaner with Trigger - 500ml
Pickup currently unavailable
Description
The Muc-Off Bio Drivetrain Cleaner is the complete drivetrain cleaning solution that can either be poured into a chain cleaning device or sprayed directly to your chain rings, rear cassettes and derailleurs to clean your entire drivetrain within seconds. It s also fully biodegradable and safe for metal, plastic, rubber and seals. Why not try using Muc-Off Bio Drivetrain Cleaner with the Muc-Off X-3 Dirty Chain Machine to provide the deepest clean on even the dirtiest chains!
Features:
Fast and effective grease cutting formula
Removes all chain oil and wax residue
Safely eliminates drive chain contaminants
Biodegradable
Ideal for use with chain cleaning devices
Trigger spray included for easy application
Deep cleans all drive chain areas in seconds

Directions for Use:
Step 1 – Shake bottle to activate formula.
Step 2 – Spray Bio Drivetrain Cleaner over the entire drive chain area including cassette, chain rings, chain and derailleurs.
Step 3 – Leave for up to 2 minutes before agitating stubborn grease, oil or grime with a brush or cloth. If using with a Muc-Off X-3 Dirty Chain Machine, unscrew trigger spray and fill device with formula. Attach the device to chain and spin pedals in reverse motion for 4-6 revolutions.
Step 4 – Rinse with fresh, clean water to remove all contaminants.
Step 5 – After rinsing, apply Muc-Off Bike Protect and a Muc-Off Chain Lube for ultimate drive chain efficiency!