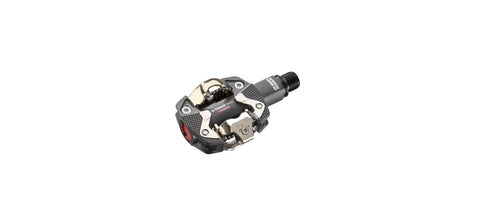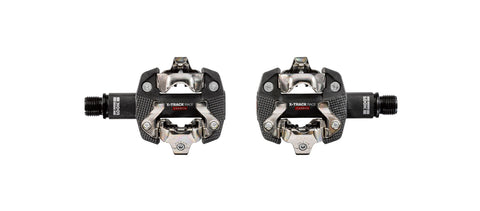 Look X-Track Race Carbon
Pickup currently unavailable
The X-TRACK RACE CARBON is simply the pedal offering the best power-to-weight ration on the market today. Thanks to its wide contact area, your full power is transferred through the crankset. This large surface also saves your foot from sliding on the pedal body and ensures your pedalstroke always feels consistent and reassuring. The carbon body makes this a an extremely light piece of technology.
WHY YOU'LL LOVE IT?
IDEAL LOOK CARBON + SPD COMBO
Discover the SPD mechanism developed by our expert LOOK engineers
Wide contact area for optimal power transfer
A extremely light pedal, weighing only 175 grams
WHY X-TRACK ?
A clipless MTB pedal must respond to a multitude of different situations. External conditions may vary considerably and interfere with pedal operation. It is not enough to make a product that is excellent in one specific area. Instead, it is necessary to design it to be as versatile as possible to provide its user with a real advantage regardless of any external obstacles encountered. Following this logic, LOOK has chosen to concentrate on the interaction of three major factors, contact surface, weight and entry/release, to develop the perfect pedal.
THE BEST POWER TO WEIGHT RATIO
All the energy you produce is transferred to your MTB through your pedals. Their role, is therefore, crucial. LOOK's objective in this new undertaking was to find solutions that would enable the most efficient transfer of rider power possible. That is why LOOK has chosen to place the weight/contact surface ratio as the primary factor when defining the product.
Generally speaking, the greater the contact surface, the more efficiently energy is transferred. On the other hand, the greater the contact surface, the more the pedal will weigh. The challenge faced by our engineers was therefore, to identify the zones that are useful for energy transmission and then optimize the pedal design in order to limit any that are unused. This task allowed LOOK to engineer a pedal with the best weight / contact surface ratio on the market.
515 mm2 + 12 % vs S-TRACK
Lateral contact support guides your foot in finding your pedal and provides you a point of contact even if you have not yet engaged the cleat. This wide contact area prevents your foot from sliding on the pedal body and offers consistent and reassuring support.
The mechanism works regardless of external conditions (in the mud, forces are significantly different from those encountered when dry), more space allows for the shedding of various foreign matter (mud, sand...). These zones give the user a constant and stable feeling of being securely clipped in, in all conditions.
An adjustable tension screw allows you to fine-tune the entry / release resistance to your personal skill level.