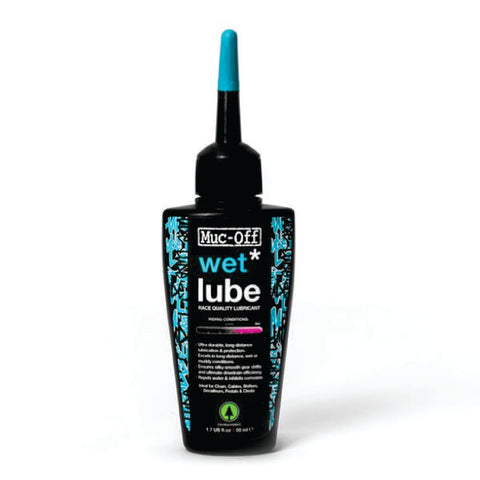 Muc-Off Bicycle Wet Lube
Description
Muc-Off Wet Chain Lube is an ultra durable, long distance bicycle chain lubricant and oil that's been specifically formulated to excel over long distances in wet or muddy conditions. Our state of the art formula has been derived from natural ingredients and made completely from renewable sources. Muc-Off Wet Chain Lube penetrates deep into your chain link's core to provide long lasting lubrication and total protection. The integral 'Extreme Pressure Additives' coat every part of the link to provide a silky smooth gear change and an ultra efficient drive chain.
Features:
Ensures silky smooth gear shifts
Reduces friction and energy consumption
Repels water for chain and component protection
Excels in wet, muddy riding conditions
Extreme pressure additives for increased efficiency
Vegetable oil based formula for eco protection
Biodegradable
Pipette system for easy application
Can be applied to chain, shifters, cables and derailleursDirections for Use:
Step 1 – Clean drive train thoroughly before wet chain lube application.
Step 2 – Ensure drive train area is dry.
Step 3 – Apply a moderate amount of Bio Wet Chain Lube to the inside chain link while spinning pedals in a reverse motion.
Step 4 – Wipe away any excess chain lube.