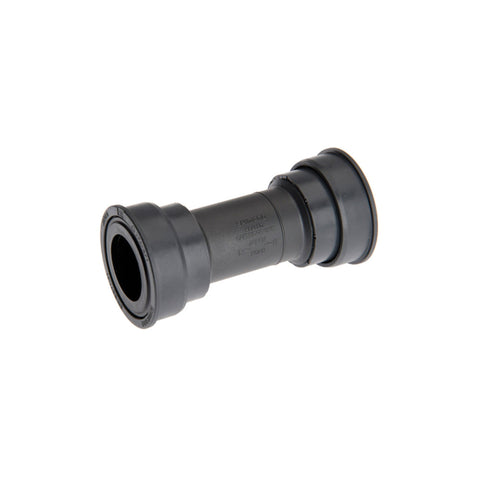 Shimano Smbb7141B Press Fit Bb For Road
Shimano SM-BB71-41B is a press fit bottom bracket for the installation of a Hollowtech II compatible crank into a road frame with 86.5 mm case width. Per usual with Hollowtech II, the bearings have a diameter of 24 mm, as this gives the best combination of rotational efficiency, stiffness, load capacity, tightness and weight even with press fit bearings. SM-BB71-41B bottom brackets are recommended for older 10-speed road and cyclocross cranks.
Specifications:
Application:

Road, Cyclocross

Type:

PressFit BB86

Shell Diameter:

41 mm

Shell Width:

86.5 mm

Axle Diameter:

24 mm (Hollowtech II)
Technical Information:
Bearings:

steel

Bottom Bracket Cup Material:

synthetic resin
Compatibility:
Recommended for:
Ultegra FC-6700, FC-6700 G, FC-6750, FC-6750 G, FC-6703, FC-6703 G
105 FC-5700, FC-5750, FC-5703
Tiagra FC-4600, FC-4650, FC-4603
Sora FC-3550, FC-3503
FC-CX50
FC-R603, FC-R563, FC-R460, FC-R350
Technology:
Hollowtech II
Shimano Hollowtech II is a crank bottom bracket system designed to achieve an ideal ratio of stiffness, weight and rotational efficiency. It is based on an integration of the bottom bracket and the right crank arm and works with a 24 mm axle or bearing diameter, which has proven to be optimal in terms of stability. In many cases, the bearing cups are on the outside so that the load is better distributed. High-quality precision seals ensure a long service life.
Manufacturer Number:
I-SMBB7141B
Contents:
1 x Shimano SM-BB71-41B right bearing cup, with bearings
1 x Shimano SM-BB71-41B left bearing cup, with bearings
1 x Shimano bottom bracket sleeve